Sony HXR-NX3D1E NXCAM 3D Complete Shooting Kit Hire - £60/Day or £225/Week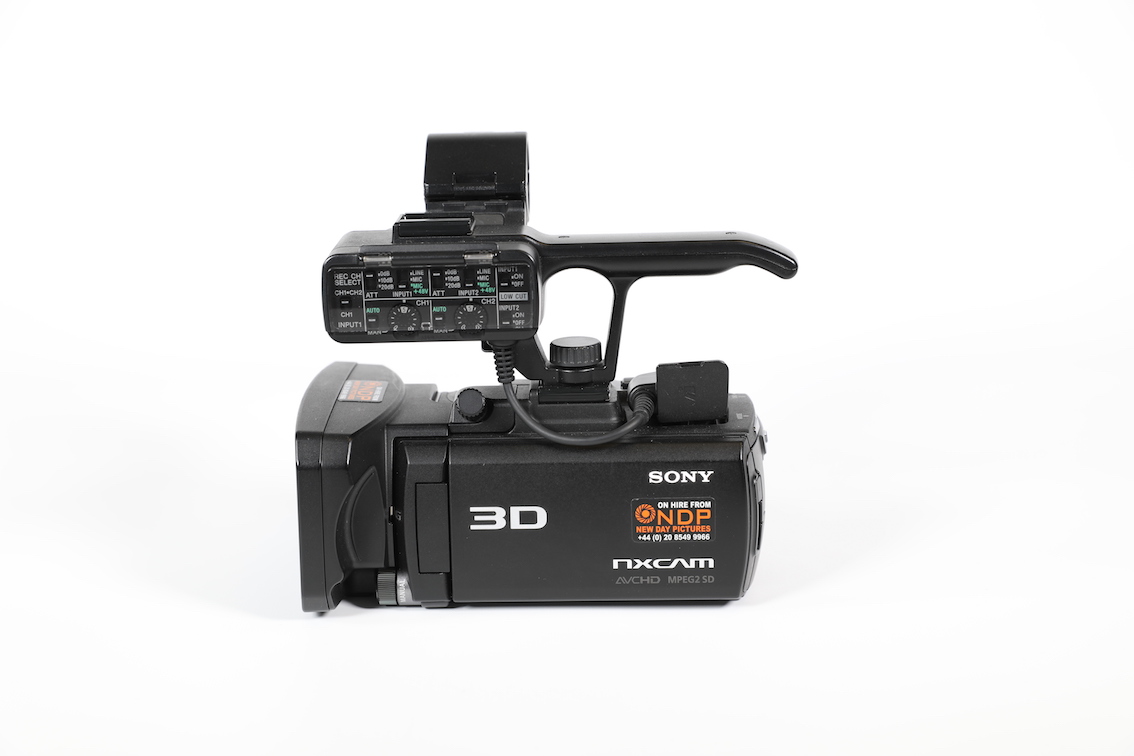 Sony HXR-NX3D1E NXCAM 3D Complete Shooting Kit Hire - £60/Day or £225/Week
NXCAM ¼" Exmor R CMOS sensors can record double full HD 3D content into a single file. 3D or 2D recording. Twin 10x Optical zoom lenses.
The Sony HXR-NX3D1E - kits come with tripod, camera case, batteries, mains power supply and charger, headphones, and all necessary cables.
1x Sony AC-VQV10 Adaptor/Charger
1x Sony ECM-XM1 Mic
1x Sony HXR-NX3D1E XLR Adaptor
1x Sony Power Lead
3x Sony NP-FV70 Battery
1x Sony Instruct Manual
2x Fig 8 Mains Cable
1x HDMI Cable
1x A/V Cable
1x Component Cable
1x USB Cable
1x Sony AC-L200C Adaptor
1x SanDisk Extreme Pro 16GB SDHC
1x Sony MDR-V150 Headset
1x Sony RMT-845 Remote Control
1x Tripod
The camcorder supports the widely used AVCHD codec, and Exmor R CMOS sensors and image processors, to provide 3D shooting while 1920 x 1090 full HD left and right images allow for realistic HD recording. These double full HD recordings are encoded in the H. 264 MVC then packed into a single file. When importing the file into compatible editing software, it is treated as left and right synchronised images without importing twice. 96GB of internal flash memory enable around 7.5 hours of 3D recording (memory cards can also be used as an alternative recording media). The detachable XLR adaptor and ECM-XM1 shotgun microphone offer high-quality Linear PCM recording.
The HXR-NX3D1 is an extremely compact, lightweight all-in-one 3D camcorder that offers a convenient, inexpensive way into 3D video production. Boasting exceptional manoeuvrability, its compact, lightweight design enables 3D shooting at camera angles never before possible. There's no need for difficult, time-consuming alignment adjustment for each scene as when using a 3D rig, simply adjusting left-right disparity is all that's required to shoot 3D footage with the NX3D1.
The NX3D1 has twin Sony G Lenses and ¼-inch Exmor R CMOS image sensors that can record Double Full HD 3D content into a single file. A 3.5-inch LCD panel allows you to view content in 3D without using glasses.
The HXR-NX3D1 also has a 10x optical zoom, 96GB internal memory and supports LPCM Audio. It can shoot conventional 2D up to 1080/50P for the complete production flexibility.
Double "Sony G Lenses" Double "Exmor R" CMOS Sensors
Inside the HXR-NX3D1's compact body there are two separate cameras each featuring a high-quality Sony G lens and a high-sensitivity, back-illuminated Exmor R CMOS image sensor. High-quality 1920x1080 Full HD left and right images enable production of incredibly realistic 3D movies.

Active SteadyShot and Optical 10x Zoom (34.4-344mm)
One of the most important considerations during 3D shooting is obtaining stable images to prevent audience discomfort during viewing. The HXR-NX3D1 features Optical SteadyShot with Active Mode, 3-way camera shake stabilizing technology that smoothes out up/down, left/right and rotational motion when shooting in 3D. Capturing stable 3D images with minimal shake is possible even for hand-held shooting.
When shooting in 3D, the HXR-NX3D1 lets you zoom from 34.4mm to 34mm (when converted to 35mm equivalent). Frame composition while zooming is also possible just like in 2D shooting.

3D Shooting with Two Parallel Cameras
The HXR-NX3D1 features two parallel lenses mounted 31mm apart. (the inter-axial distance is 31mm) Disparity adjustment can be performed to change the read-out areas of the left and right CMOS sensors so that they are closer together or further apart. This lets you control perceived 3D depth and the proximity of regions of interest to a virtual screen. Disparity adjustment is also possible during shooting using the manual dial. Moving a region of interest closer to the virtual screen enables shooting of comfortable 3D images with the desired feeling of depth.
Please note, when capturing 3D images, the minimum shooting distance is 80cm (at wide-angle setting)

3.5" Xtra Fine LCD™ display Providing 2D or Glassless 3D Viewing
The HXR-NX3D1's glassless 3D LCD (2562x480 PIXELS) lets you preview 3D images while shooting. Switching between 2D and 3D display is also possible as well as separate display of left and right images and a composite mix of left and right images for easier confirmation of disparity.

User Selectable HDMI output for 2D and 3D viewing
Output from the HXR-NX3D1's HDMI jack to a 3D TV is selectable between Frame Packing with Full HD output of alternate left and right images, and Side by Side with output of horizontally compressed left and right images packed into a single frame. Select the Frame Packing mode for a 3D TV (Sony BRAVIA) and the Side by Side mode for a professional 3D monitor. Connection is also possible via an HDMI-HD-SDI converter to enable compatibility with a wide range of 3D monitors.

Multi-Format Recording
Compatible with a wide range of formats, the HXR-NX3D1 enables 1080/60i/ 50i/24p 3D recording and 1080 60p/60i/50p/50i/30p/24p 2D recording.

XLR Adaptor with Selectable Phantom Power and ECM-XM1 Shotgun Microphone
The detachable handle has a compact, ergonomic design. Two balanced XLR audio inputs are built in with phantom power and attenuation options that professional shooters require for clean sound quality. Default audio settings for XLR recording are highlighted in green for easy reference in the field in order to reduce operator error under difficult lighting conditions.
The ECM-XM1 shotgun microphone, mounted on top of the handle, provides high quality linear PCM audio recording performance similar to larger shoulder-mounted ENG style cameras.

Large Capacity, Internal 96GB Memory and Multi Card Slot
The HXR-NX3D1 has 96GB of internal memory, enabling extended recording in 3D mode for approximately 7.5 hours. There's also a multi-card card slot that lets you record onto Memory Sticks and SD Cards. You can also use these convenient recordable media to copy data from the internal memory.