Sony HXR-NX5R NXCAM Complete Shooting Kit Hire - £75/Day or £295/Week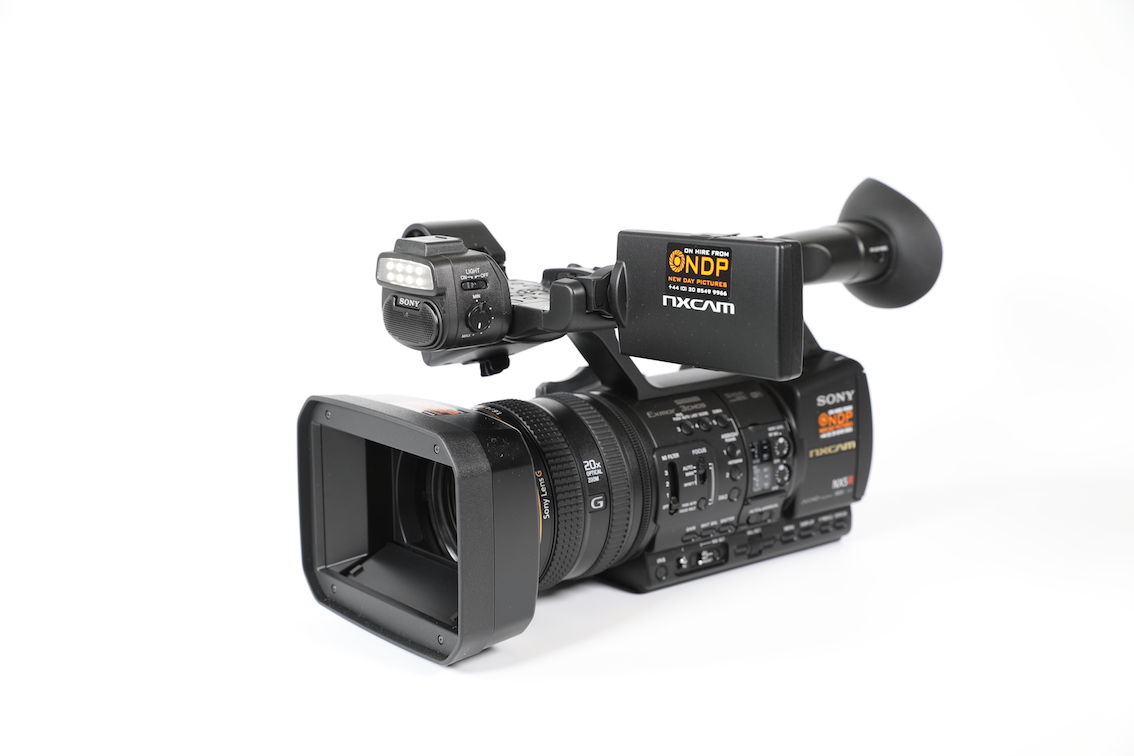 Sony HXR-NX5R NXCAM Complete Shooting Kit Hire - £75/Day or £295/Week
NXCAM Three 1/2.8" CMOS Sensors. Full HD recording in XAVC-S 50Mbps or AVCHD. 20x Optical Zoom lens.
The Sony HXR-NX5R - all our Sony NX5R camera kits come with tripod, camera case, SD Card, batteries, mains power supply and charger, headphones, and all necessary cables.
1x Sony NX5R Video Light Diffuser
2x Sony NP-F970 Battery
1x Sony NP-F770 Battery
1x Sony BC-L1 Battery Charger
1x Sony AC-L100 Power Adaptor
1x Sony Instruct Manual
1x Fig 8 Mains Cable
1x HDMI Cable
1x BNC-BNC Cable
1x USB Cable
1x SanDisk Extreme Pro 64GB SDXC
1x Kingston Card Reader
1x USB 3 Cable
1x Sony MDR-V150 Headset
1x Sony RMT-845 Remote Control
1x Tripod
Full-HD Camcorder. Three 1/2.8" CMOS Sensors and a 20x optical zoom Sony G lens. XAVC-S 50 Mb/s or AVCHD/DV recording.
Rich Colour Imagery
Offering latest generation imaging performance, the NX5R has full-HD progressive image capture rather than the interlaced output of the original HXR-NX5. Three 1/2.8-type Full HD Exmor CMOS sensors provide 2.07 million effective pixel count at the 16:9 aspect ratio. Red, blue, and green light are independently captured by separate image sensors, contributing to high resolution, high sensitivity and wide dynamic range, and an advanced LSI (featuring intelligent noise reduction, enhanced detail reproduction and distortion correction technologies) delivers remarkably lifelike images.
Built-in LED Lighting
An easily adjustable brightness LED video light is positioned just above the camcorder's built-in microphone, providing convenient illumination for a wide range of shooting situations and minimising the need to carry external lighting equipment. Illumination is approximately 200 lux/1m (approx. 800 lux/0.5m) with a beam angle of 30° and a colour temperature of approximately 5500K.
Networked for High Usability
The NX5R allows you to live internet stream from any event using hassle-free Ustream service or a generic streaming mode for a local area network for a secure corporate presentation. Remote control makes the NX5R perfect for multi-camera shoots: simply mount it on a tripod and use your smart phone or tablet to monitor and control focus, zoom, iris, REC START/STOP and more. FTP gives you the ability to click and send Full-HD content to your editor for fast breaking news stories.
Wide Choice for Connections
With 3G-SDI (Full HD 50p/60p output), plus REMOTE, composite (BNC), and audio XLR terminals, the NX5R provides all the connectivity options that professionals have come to expect.
Multi-Interface Shoe
The Sony Multi-Interface Shoe provides power, signal connections, and coordinated on/off switching to compatible Sony accessories. It gives you the ability to use compatible external accessories, such as a Sony wireless microphone system, with the NX5R.
Dual Media Slots
The NX5R has dual media slots, which are compatible with SDXC and SDHC cards as well as Memory Stick Pro Duo (Mark 2) and PRO-HG Duo. To extend recording time and workflow flexibility, there are various data recording modes available including Relay, which automatically switches recording from the first to the second memory card when the first is full, and Simul, which allows simultaneous recording to two memory cards to create back up.
Get Closer with 40X Zoom
The high-performance Sony G lens attached to the NX5R offers an expansive 28.8mm (35mm full-frame format equivalent) angle of view at the wide end. The 20X optical zoom is doubled using Sony's advanced Clear Image Zoom, increasing the range to 40X.
Multi-Format Recording
Designed to provide the absolute best performance for Full HD productions, the NX5R can record in AVCHD and DV to support proven legacy workflows, as well as the newer, more advanced XAVC S at 50Mbps. In XAVC S, the NX5R uses the MP4 file format, sampling at 50Mbps. Compared to AVCHD, XAVC S 50Mbps captures more details and less noise thanks to the higher bitrate.
Flexible Controls
All of the NX5R's key functions are at your fingertips – from intuitive Direct Menu controls to a responsive joystick on the hand grip. Direct Menu options display on-screen, so shooting parameters can be changed quickly and conveniently without taking your eyes off the action.
Precision Monitoring
The NX5R has a high visibility wide viewing angle and high contrast 0.39-type 1440K OLED viewfinder and an easily adjustable, flip-out 3.5-type 1550K LCD. It adapts to fit your style, and guarantees precision monitoring and low latency